KidZ
Jump to navigation
Jump to search

The KidZ modpack is a light general all purpose modpack for Minecraft 1.7.10. It is close to minecraft vanilla, but adding some things that are not too complex for smaller children. Loads of decoration elements will make every builder happy.

It is lightweighted as it contains a small amount of mods and thus it's recommended for large servers. It should work on any computer that can handle vanilla Minecraft.

It is a great pack to learn the crafting recipes, as there is NEI, showing you every recipes in-game.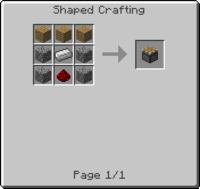 Mod List